The weather here has been truly weird. It is like being stuck in the rainiest, gloomiest November days, when we are supposed to enjoy snow and frost. Dressing up during these days has been particularly tricky...here is why:
- It is too grey and dark to wear bright colors, you will stand out more than you'd like.
- It is constantly raining or drizzling.
- You get too hot when you dress for winter but because of the shitty weather you get cold easily when you don't dress warm enough....also because the weather can be very moody.
- Streets are wet and dirty, so heels or fancy leather shoes aren't an option.
- Don't even get me started about stores and cafe's. They heat as if we were dealing with freezing temperatures...winter hasn't arrived yet, get that in your head...
But despite all that, this look worked really well for a day at the Palmengarten Park Museum, where we were partly outdoors and partly inside green houses.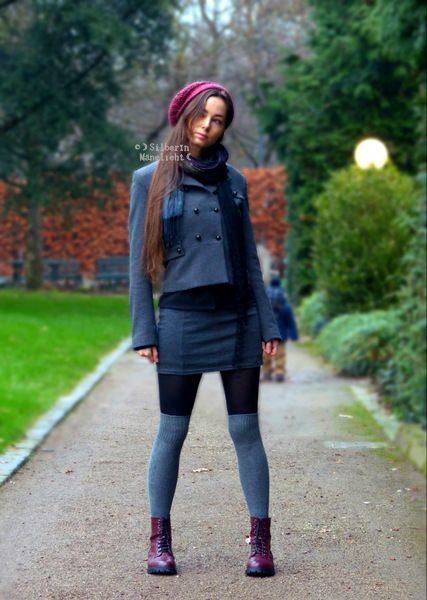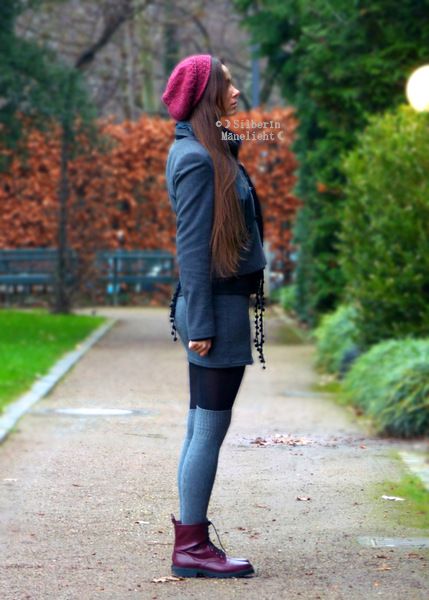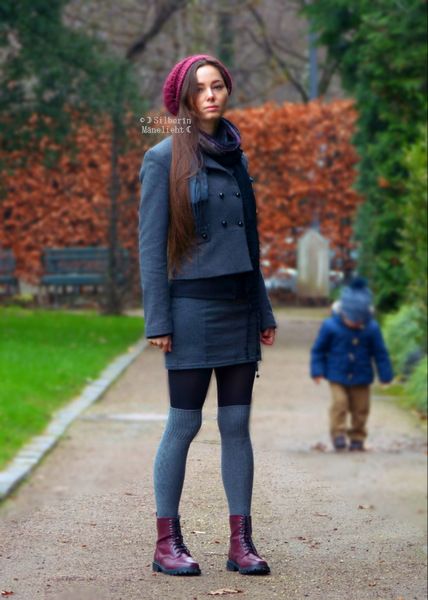 My thought behind the look:
✛
Thin layers are great for staying warm, but not overheating. And you can always take off a layer.
I actually wore 2 thin cardigans layered later at night when it got colder, one I had kept in my purse until it got dark ;)
The Military Style Wool Jacket is thinner and lighter than your average winter wool coat.
✛
The dress itself was short (I actually don't recall it being this small, but maybe it shrank, or I got bigger...whatever happened the dress will have to deal with it :P). Adding tights AND over the knee socks made it wearable in semi cold weather. I love over the knee socks. Not only do they add a bit of "cozy" to a look, they can also really change a look and make it a bit more edgy.
✛
The boots look great and work well for rainy weather. They give the short dress and over the knee socks a casual, laid back look so it doesn't look like "too much". Burgundy goes well with grey and black and adds a bit of color.
To compliment the burgundy (almost plum colored) boots, I added a burgundy knit hat and a tie dye scarf with a hint of burgundy.
I actually wore 2 thin scarves and added a black lace scarf to the the tie dye cotton scarf.
The hat is hand knit by me according to a pattern from the Jane Austen Knits 2012 issue. It is inspired by Regency Era mob caps of the early 1800's and was worn by Jane Austen herself too.
It works especially well for bad weather, because I can simply hide away my hair in the hat if needed (cold, wet, in the way...for whatever reason). It also does not cause "hat hair" and just gracefully drapes down the head. It looks great with my hair worn down, without giving it a smushed look...it can fall freely.

I recently sold one like it in my shop: https://www.etsy.com/transaction/176880044
And will be listing it again in the future
Featured Items:
Everything is H&M aside from the hat....:D I'm very sorry for featuring so many H&M items. Maybe they want to sponsor my blog in the future? ;)
Truth is that I usually find what I like at H&M and I rarely need to visit other stores. And with a toddler, you try to do the least amount of stores possible because it is a hassle ;).