This look is a mix of different styles and two style decades. It has influences from the 80's as well as the 90's. It is a bit grungy, a bit post rock and has one sophisticated item. I think I am pretty proud of my combination skills.
'
So here we go...the look was built around the Coca Cola shirt, veni vidi vici - I came, saw and purchased! ;) The color of the shirt is like a washed out vintage red. I felt like a denim shirt would be the coolest way to compliment it (as opposed to a cardigan).
After that it sort of all came together, jean shirt goes well with black pants, and once I wear the black pants, I will pull out more black items to match. I felt the look would really do well with a 80's touch, so I wore this black hat. The leather jacket looks a tiny bit 80's, but really more like a moto jacket of the mid to late 90's. Yup, 90's wasn't all about wide, egg shaped jackets. Around the mid 90's many styles became more fitted again. The style many young fashion bloggers rock nowadays is mostly inspired by the earlier 90's (I must know, I was there wearing that stuff)
The jacket has some interesting studded detail. It is very subtle really. It has an asymmetrical shape, pocket and is made of very soft, slightly antiqued looking leather (as a fan of the Middle Ages, I like leather).
I look a bit grouchy here because the sun was very bright, but check out the zippers on the back of the jacket sleeve! I love this detail. You can also get a good idea of the texture of the leather here.
The good part of having hooded eye lids is that when you squint, it provides instant shade lol!!
Here we have that one item that is a bit preppy - my handbag. The clean, structured shape is something that is usually worn with very feminine, chic looks. Well, not today haha...I am mixing and matching.
I want to feature this handbag by itself in a later post.
I purchased this black hat at a fair in Frankfurt where a local hat maker was featuring new styles. So it is quite traditional. It is very hard to find fashion hats when your head is small. The only place that sells hats small enough (54 cm) is H&M, and they tend to be sold out of the small sizes.
"Hat hair" can be an accessory. I think it can really change the look of having your hair down. From the back you can see the crown of this hat has an interesting shape, and I really like how it goes with the whole outfit from behind too. When I wear a side part, I tend to tuck the left side behind my ear and only let hair fall forward on the right. I remember this look from the 80's and I liked it then too. In fact, I always wanted my mom to style my hair to one side with clips :) (I miss the 80's...sigh)
I was unable to get any pictures where I don't look down or squint that day. It was really sunny and we didn't have much time because I was about to leave to a La Leche League meet up.
Here is a close up of the bag. As you can see I played up the light blue colors many times in this outfit.
There is something about light jean blue and washed out red with white that gives a nostalgic vibe. Also take note of my blue nails and the blue Aquamarine ring (my wedding ring).
The bag is fantastic, not only because of the color and really pretty design. It has lots of room, despite being only of medium size. The inside has many small compartments and the best part about it are actually two large zipper compartments on each outer side of the bag! I can place lots of diapers in there without them taking away any room on the inside! :D It would also be convenient for tablets, not pads, magazines, small books etc. And of course there is a front zipper, which holds some of my son's books and some paper and pencils.
The canvas boots have a small platform and a chunky heel, and are an almost exact (!) copy of my favorite boots that I wore in the 90's. Just on mine the platform was a tad bigger and the heel and platform had a wood look (why don't they bring back that look? Boots with wooden inlays in the heel? They were my favorites as a teen and I wore them almost every day until they fell apart)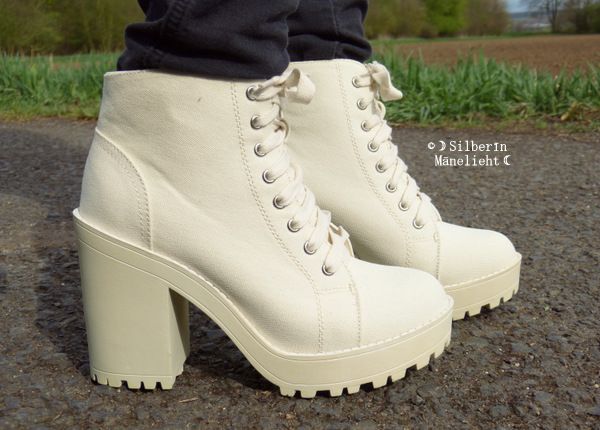 I did not wear much jewelry that day because I felt the look had enough going on. I also did not wear any Make Up because I feel it really fits that casualness of the look.
Clothing items:
(all items available for purchase now, except the hat)
Coca Cola Shirt :
Primark
for Coca Cola
Asymmetrical Leather Biker Jacket:
MANGO
(might not be available anymore, check the sale section, though they do have similar styles and might bring it back)
Small City Bag in Jeans Blue :
Zara
(also available in pastel pink)
Off white canvas platform boots:
H&M
(also in black)
Black Jeggins, Jean Shirt:
H&M
(also in blue)
Hat: Local hat maker
What do you think of this look? Anything you like especially?