I wanted to create a casual, comfortable look that still looks special and "updated".
To achieve that I decided to use a lot of current trends, that aren't huge yet, but that I personally like, and accessorize them well.
Most people wear a mix of old and new, or trends that are a few years old, so wearing something that is so new, not a lot of people are wearing it yet (or maybe never), can look unusual in a good way.
(of course all this varies depending on where you live)
The new trends:
1. An egg shaped, oversize, drop sleeve jacket - I think these are a really nice vintage trend, but it seems they haven't been adapted by the broad public yet. In recent years most clothing has been very fitted or even tight. Loser styles haven't really been worn since the 90's. And then of course, some women prefer showing off all of their figure and won't opt for anything lose or "egg shaped".
I personally like to mix lose and fitted, also because it can take the vamp out of a few more sexy clothing items. Imagine wearing a fitted coat AND a short skirt AND a tight top AND heels! Most often that is too much. But since I still like to wear a short skirt, or heels or a cute top during the day, I opt for adding more casual pieces to make an outfit less sexy. For example - a lose sweater with a short skirt and platform boots like shown in my last look.
2. Platform sneakers -, sneakers are comfortable no doubt, but the platforms makes them stand out more than regular sneakers of course. I feel like they add a bit of an edge, it looks a bit more dramatic than regular sneakers.
3. Skinny Jeans.- These are fitted, stretch, with a high waist, so super comfortable. I feel the very skinny leg shape adds a good contrast to the wide coat and the chunky sneakers.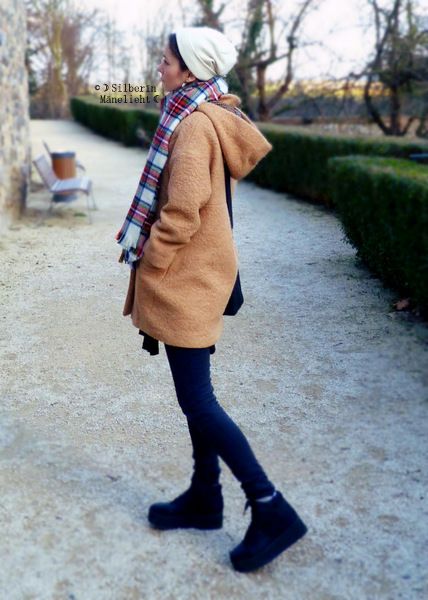 Now on to the accessories:
It is all about the scarf and the beanie. I love tartan/ plaid patterns and I think this scarf is lovely because it has rather untypical colors. The off white beanie picks up the main color of the scarf and I find that a light beanie like this is also pretty unusual.
I wore black and white Cameo earrings for a slight vintage touch. Last but not least I tied a black sweater around my hips (a bit hard to see). Doing this was popular in the 90's and I think it is a very convenient way to carry an extra sweater for layering in case it gets colder.
And that is how I like to "dress up" in casual clothing. I'm comfortable, warm, not overdressed, but there is still something special.
Clothing items:
Jacket:
Zara
(got in on sale for 60% off!, might still be in stores)
Scarf, Platform Sneakers:
H&M
(still available)