...and to be perfect is to have changed often ~ John Henry Newman
I created a soft vintage look for the second day of Christmas (26th) I hope everyone had a wonderful time celebrating Yule, Christmas, or whatever else you do during the end of the year. I feel like this time is not only special because of the festivities, but also because in the darkest and coldest time...at the end of a year, one feels a certain melancholy looking back.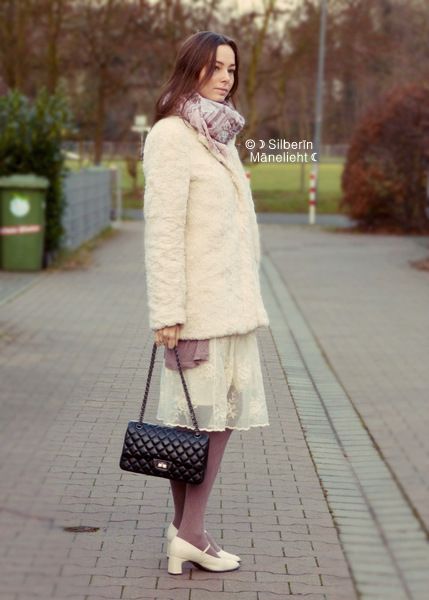 I wore a teddy fur jacket in the same color as the dress. Everything was kept light, except the bag. Sometimes black goes well with light colors and it almost certainly gives it a vintage appeal.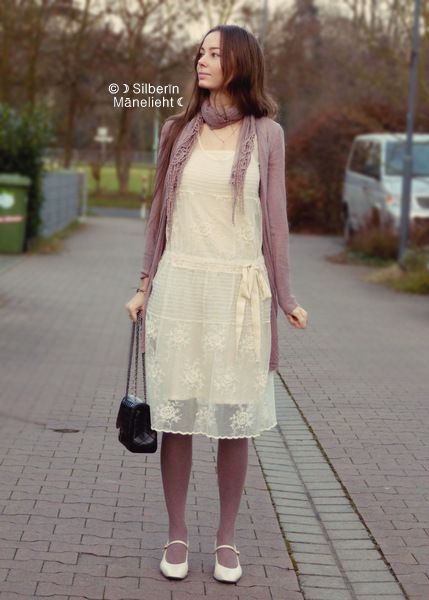 I love how even the tights match. These are made of thin wool and keep my legs very warm. The dress has a 1920's appeal with its drop waist and lace.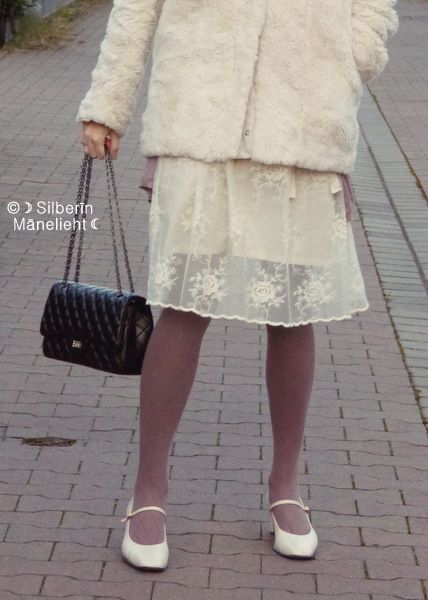 The shoes are true vintage. I don't know their age but the way they are constructed is fairly unusual. The shoes are all leather and the inside is cushioned, making them very comfortable.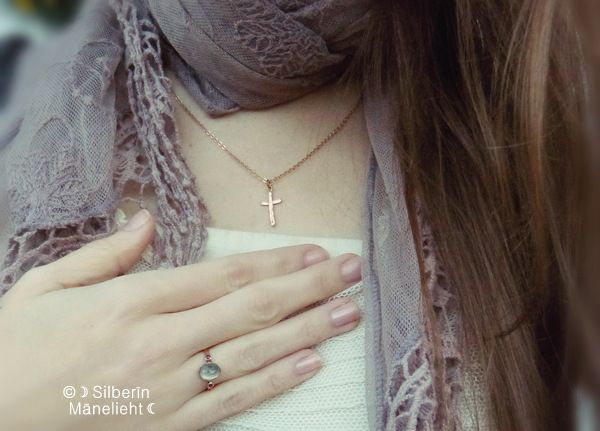 I felt romantic, delicate jewelry in rose gold fits the style. I had this cross custom made actually because I was planning to reenact a different time period and culture for upcoming Medieval Fairs (German later Middle Ages instead of Viking). So this cross was constructed to look a bit rustic :).
From the same seller I also obtained a matching bangle in rose gold. The leather bracelet with rose gold tone nuggets is Fossil.
This ring was also created in a vintage style. The creator "Vena Amoris Jewelry" takes inspiration from ancient Roman Jewelry designs. It would fit many time periods wonderfully, and even the stone is rose cut just like in the old days (rose cut gems were said to reflect candle light beautifully.
Teddy Fur Jacket & Scarf: H&M
Cardigan & lace Scarf: C&A
Shoes: Good Will Store (NY)
Rose Gold Filled Cross and Bangle: Kulotts Korner on Etsy
Solid Rose Gold 14K Ring with Aquamarine and Rubies: Vena Amoris Jewelry on Etsy
Rose Gold Nuggets bracelet: Fossil