~"Women who love themselves are threatening; but men who love real women, more so."
Naomi Wolfe
I thought this was a beautiful quote and very true. Many are not looking for an equal mind.
One year has past since the last Christmas fair look, so I felt inspired to take a picture at the same location. In the background you can see the lovely Christmas fair of Frankfurt, that has been held since the 1300's. It was celebrated a bit differently then and more about buying goods for a long winter, but in the 1800's it became what it is now and the first tree was put up.
I have been visiting this fair my whole life and always look forward to all the vendors that sell jewelry, handmade goods, hats, mittens, knit items, wood works, decoration and ornaments, figurines, wine, dried meats and of course lots and lots of food and hot, sweet wine with spices.
It was only 4 degrees that day yet I managed to stay warm in a leather jacket, also with the help of the scarf, which works a bit like a Poncho. Do try it out, you will be much warmer. I'm generally not very cold sensitive either.
The Look: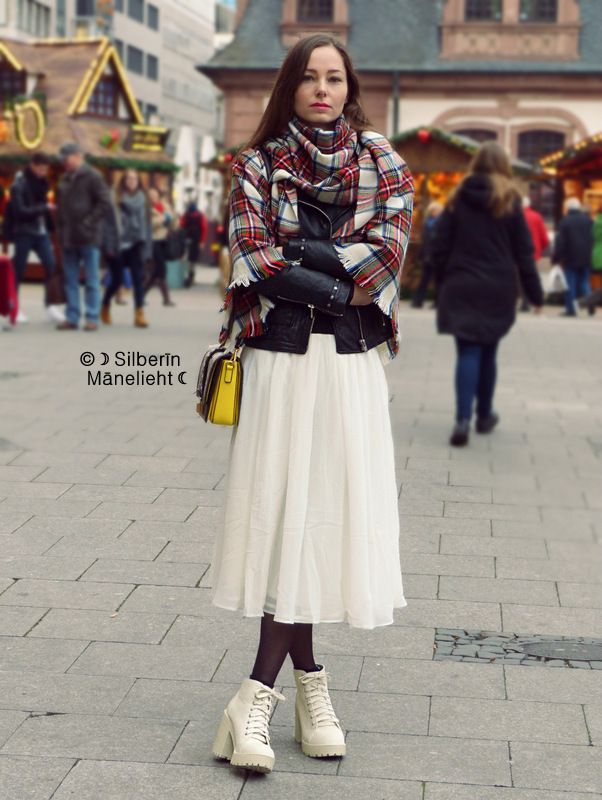 I really like combining black with white, red and green. I combined white platform boots to compliment the skirt. The scarf also has the same white tones.
I wrapped the scarf like so: Draped it over the front of my chest with the ends hanging down the back. Then carefully placing each end over my shoulder to bring it to the front. To make it more secure a shawl pin can be used to keep the ends in the front. It can be fully closed in the front or open like shown here.
The bag adds a little pop of color and texture. I like how it can be held different ways comfortable. I don't always want it on my shoulder.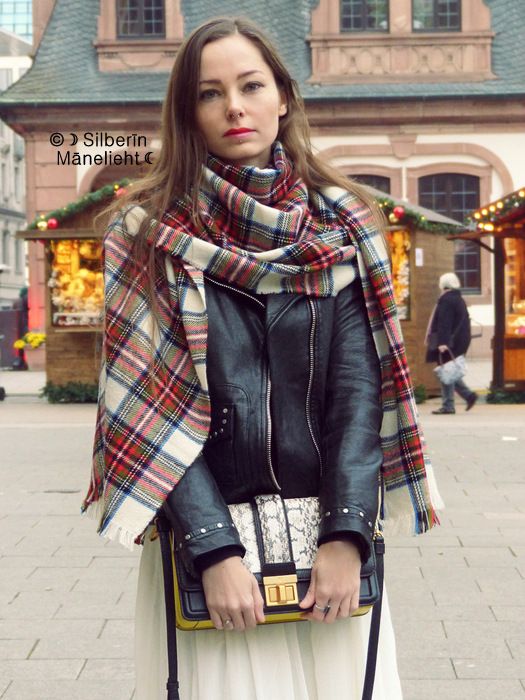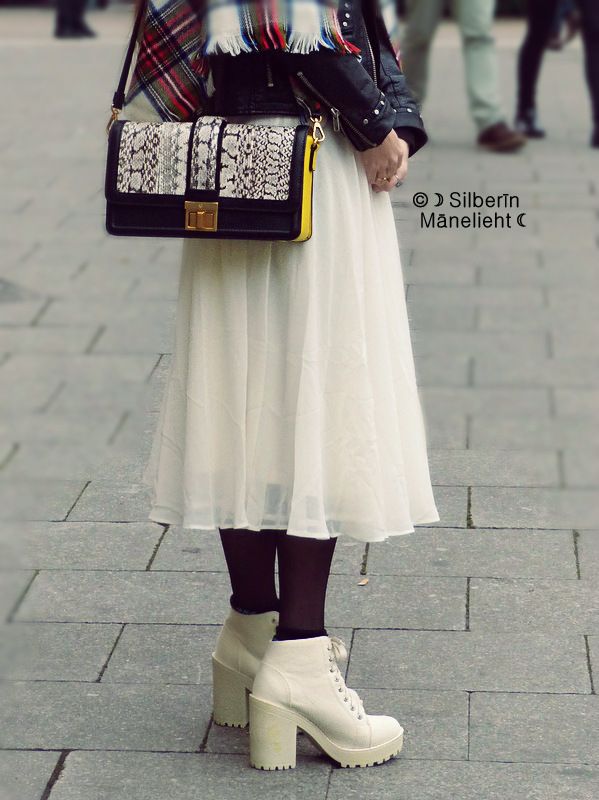 These platforms are very comfortable thanks to the chunky heel.
Make up and Styling:
(click to enlarge images)
I used the same colors as in the look. A bit of green eye shadow on my upper lid and a light red (long lasting) colored gloss on my upper lip. It might be odd to only color the upper lip, but I do like that look ;) Just make sure the bottom lip does not look too pale in comparison. I applied black kohl kajal liner on my lower inner eyelid.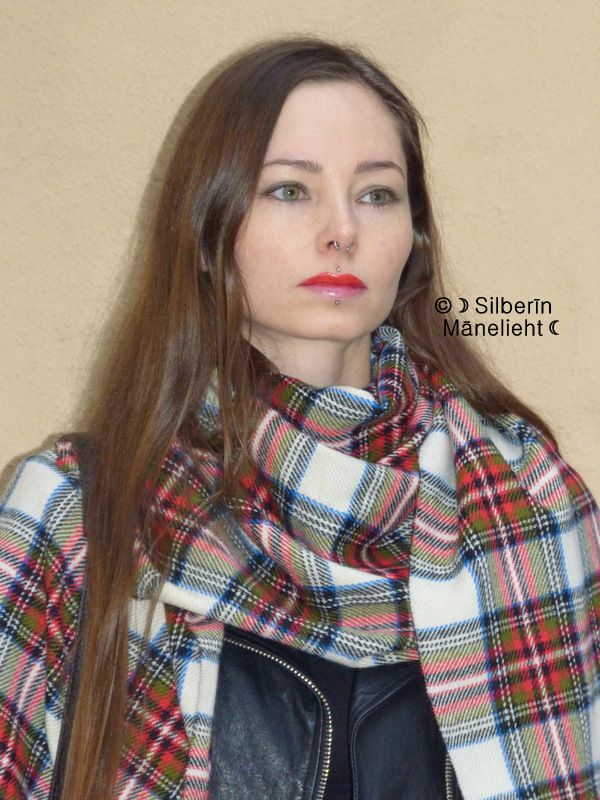 I used the same colors as in the look. A bit of green eye shadow on my upper lid
Bag:
MCM little Veronika small satchel
I really like the uniqueness of this bag and the quality. It has many little compartments and the interior is lined beautifully in what looks like texture linen and yellow leather.
Accessories:
I think everyone should own a great plaid scarf :) The kind that looks like it was handwoven.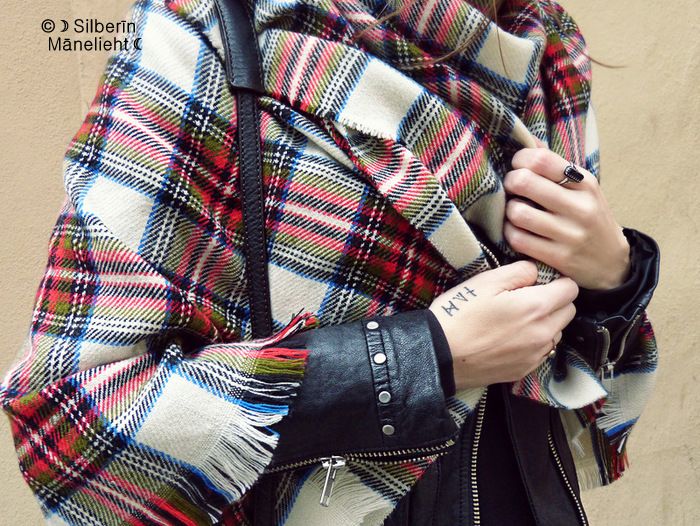 Ring and Nyd (Nauthiz, Naudhiz) tattoo. The tattoo is fully healed now :))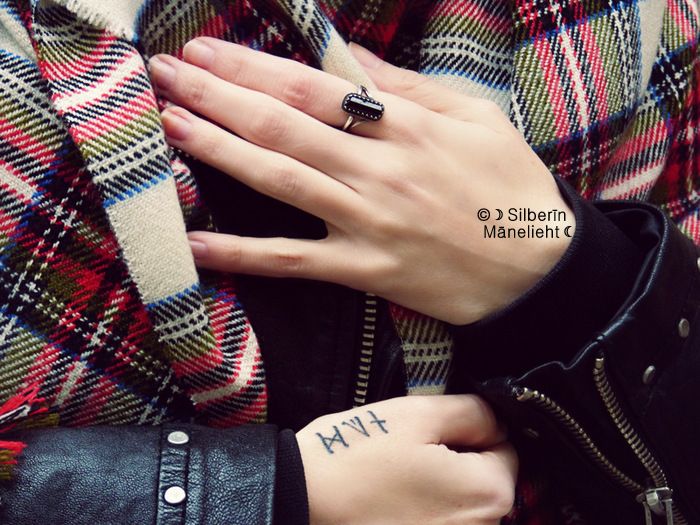 Black tourmaline free form crystal ring: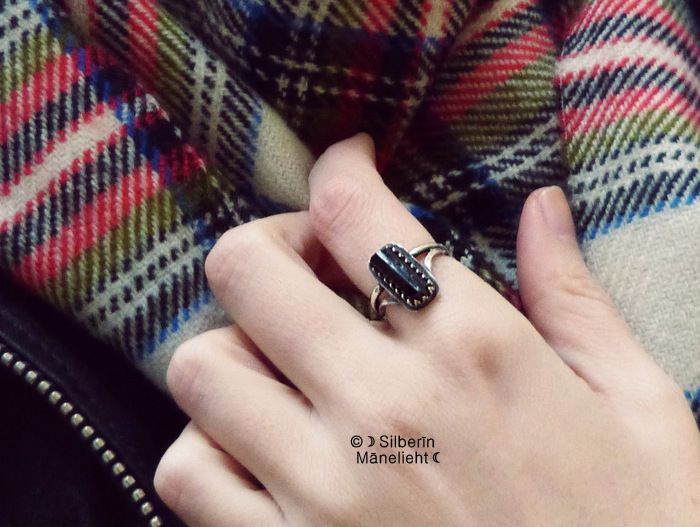 Handmade from Etsy.
Read more about the properties and legends around this stone:
http://www.crystalvaults.com/crystal-encyclopedia/black-tourmaline
http://www.healing-crystals-for-you.com/black-tourmaline.html
Shoes: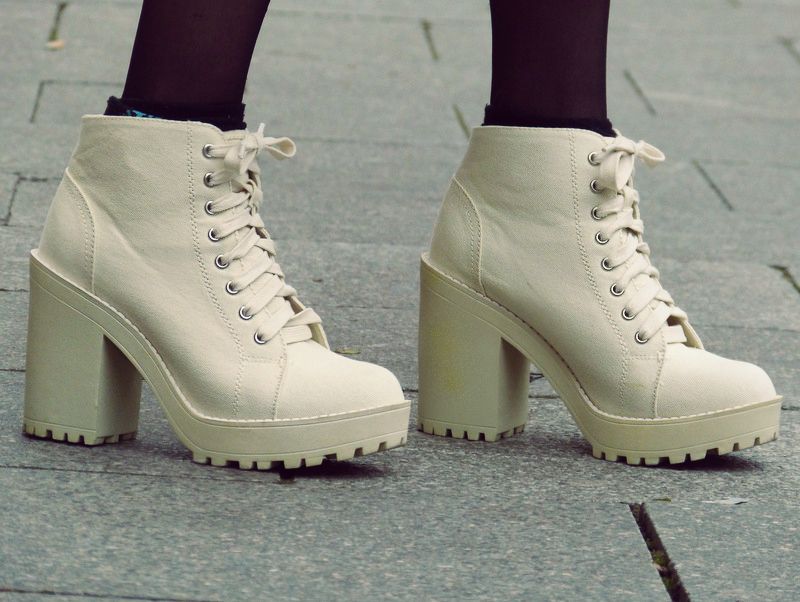 Fashion Items
Leather Jacket: Mango
Skirt, Platform Boots, Scarf: H&M
Handbag: MCM little Veronika Visetos Snake small
Ring: Glowfly from Etsy
Tattoo: Anglo Saxon Runes
from the Anglo Saxon Rune Poem 860AD, the verse with Nyd....done at Dave's Tattoo (by Zon)